Here we have provided a step-by-step process for Visa Appointment booking, depending on your locality in India. You will also find the details of how to track your booking, the cancellation procedure and date exchange procedures.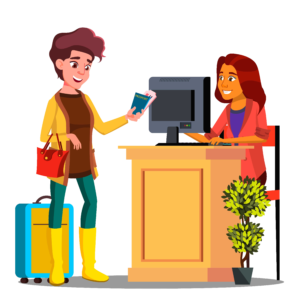 There are several steps for the Visa process. The order of these procedures and how you complete them vary according to the U.S Embassy or Consulate. Kindly refer the respective websites for more information on the instructions to be followed.
1. Complete the Online Visa Application
You need to complete the online nonimmigrant visa application, the DS160 form and print the application from the confirmation page to be brought during your interview. After you have completed the form, print and keep the DS-160 barcode page. You shall also attach your photo in this step. Follow the format explained on their website.
2. Schedule the Visa Interview Appointment
The U.S Embassy/ Consulate will not book an appointment for you. It is your responsibility to schedule an interview. Schedule an interview at the country you live in.
3. Payment of Application Fees
The Nonimmigrant visa application processing fee would be around $160. Check their website to see the exact amount you need to pay, as per your application requirements.
4. Gather required documents
Gather and keep all the following documents ready before your Visa interview.
You might also be required to provide other additional documents.
5. Schedule the Appointments
You are required to schedule two appointments – one for the Visa Application Center (VAC) and one for the Visa interview at the U.S. Embassy or Consulate.
Firstly, schedule your appointment at a Visa Application Center. Here, you need to visit one of the five Visa Application Center locations and have your fingerprints and photograph taken. This appointment must be scheduled at least a day before your visa interview appointment at the U.S. Embassy/Consulate.
Second, schedule the Visa Interview Appointment at the U.S. Embassy/Consulate.
While scheduling your appointment, you will have to give complete information about the type of visa required, your personal information, dependents, location of appointment centre, etc.
6. Attend the Visa Interview
Take all the required documents and records along with you while going for both the interviews. At the Visa Application Centre, your digital fingerprints and photograph will be taken. After this, you will have to visit the U.S. Embassy/Consulate on your interview date. You will be interviewed by a Consular office to determine if you should receive the U.S. Student Visa or not. You should provide all clear documents and answer them well to show that you are well established to obtain the Student Visa.
After the visa is issued, you will have to pay the Visa Issuance Fee and make the necessary measures for the return of your passport and visa back to you.
Are your ready for US in 2020?