Welcome! We want to help you have an easy time with the application process for the American Universities by providing you guidance at every step of your application. But where does it start and what to do next? Let us understand the 16 significant steps that you need to go through to start your Masters in the United States of America successfully!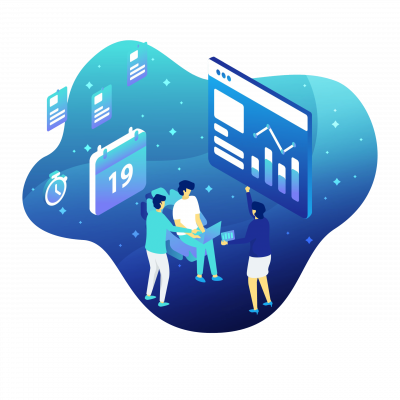 STEP 1: Get your Passport
Assuming that you are just beginning with your documentation, your first task is to get your Passport. It is the prime identification you will have as an Indian Citizen when you go for your Masters in the USA. Refer this part to know the entire process of issuing a Passport in India. This step is not optional.
STEP 2: Take an English Proficiency Test
English isn't your first language; thus, you may need to prove your English language proficiency in order to apply for the Master's programmes. Taking an English language test (IELTS/TOEFL) is the solution to this case! The IELTS is a popular (and considerably easier, according to us) option and is widely accepted by the American Universities as well. This section will help you with everything you need to know about the TOEFL & IELTS tests. 
STEP 3: Take the GRE Test
The GRE Exam is considered to be an important admission criterion for prospective students aspiring to pursue a Master's degree in the America. This test needs a little bit more preparation and dedication into the efforts, as compared to the IELTS Exam. This section will brief you more information on the GRE Exam and their types.
STEP 4: Get your Bachelor's Transcript and Educational Certificates
The Universities get hundreds, maybe thousands of applications per semester every year which need to be assessed and a decision is to be made whether to accept/reject them. The Admission Committee thus, do not have enough time to go through each semester marks cards of all the students. Thus, your Bachelors Transcripts are a mandatory requirement while applying for these Universities. Along with the Transcripts, your education certificates are a major requirement. Read this section to know more details.
STEP 5: Prepare your Curriculum Vitae (CV)
Your CV is another important document listed on every university course requirements page. It is necessary that you create your CV based on university type, and update it with the most recent experience/study. This section will help you with the process of creating/updating your CV.
STEP 6: Prepare a Statement of Purpose (SOP)
As it states, the Statement of Purpose mainly portrays the purpose with which you are applying to the University. The Statement of Purpose is perhaps one of the most important documents for your application. You need to prepare this document from scratch. It actually takes more effort and time than you may think to end up with a satisfactory SOP. Check out this section for more information and get started soon.
STEP 7: Collect your Letters of Recommendation (LORs)
A Letter of Recommendation is the (positive) personal assessment given by your supervisor/ professor/employer. LORs play an important role in getting you the admission as it expresses your strengths from a third person's point of view. You need to collect about 2-3 LORs from your past/current supervisors (professors, project manager, etc.). Go through this section for further details.
STEP 8: Prepare a list of Target Universities to apply
Once all your documents are ready, it is time to start shortlisting some universities based on your profile and preferences. It might take some time to go through all the Universities and analyze their programme modules, curriculum and other opportunities. Make sure you have a lot of options ready which matches your profile and desired programme. Check this section for more information on the same.
STEP 9: Send Applications to University
You have your documents ready and Universities shortlisted. It is now time to start the application process. Most universities ask you to apply online on the admission portal and then send out the hard copies of the documents if chosen. Visit your target university's website and check on the application procedures. Read further into this section to learn more about the process.
STEP 10: Apply for Education Loan
You may have to apply for an education (student) loan to support yourself during your stay in the USA, i.e. for your tuition fee, travel and living expenses. Once you receive the offer letter, you need to get the i20. But to get the i20, you need to present either your bank statements/loan letter/scholarship letter. Applying for a student education loan could be a tiring and confusing process. This section describes the whole process and gives you a few important tips.
STEP 11: DS160 Form, SEVIS Fee and Visa Appointment
Once you get the i20, you need to complete the DS 160 form depending on the type of Visa you will be applying. This is followed by paying the SEVIS fee and then scheduling the visa appointment. Read more about the types of Visa, the fee to be paid and the Visa procedures in this section.
STEP 12: Take the Travel Insurance
This is an important step in this process. Your travel insurance covers you during your journey to the USA. Check this section for information travel insurance.
STEP 13: Apply for the US Student VISA
This is the last step to achieving your goal. You need to decide the type of Visa you will need for your Masters. This step could get on your nerves. Here you will get some clarity and hopefully make you feel better and prepared.
STEP 14: Book your Flight
This is the final step before your Visa Interview – booking the flight tickets! If you are not familiar with the flight booking procedure, check out this section for the step by step procedure.
STEP 15: Get a Travel Money Card
Once you arrive in America, you might not find an ATM, or it may take some time before you can withdraw money from your US bank account. A Travel Money Card (Prepaid card) will come in handy in such a situation. Learn more about Travel cards in this section.
STEP 16: Pack your bags and say bid adieu!
Now it's time to sit back on the couch and let your mom take care of the packing! Just kidding, you can't be negligent about this part. Get the shopping list ready and be smart about things to pack. A number of factors need to be kept in mind while packing – the weather of USA, a suitable snack for travel, clothing required, etc. Read this section now to know all the things that you need to take care during the last few days in India.
Are your ready for US in 2020?